Some 700 kilometers away from the capital Bangkok sits a bustling island popularly known as Koh Phangan. Derived from ngan, which means sandbar, the island lives up to its name for having numerous sandbars and pristine beaches. For these reasons, Koh Phangan has come a long way from being a quiet coconut community to a tourist spot to the digital nomad hub that it is today.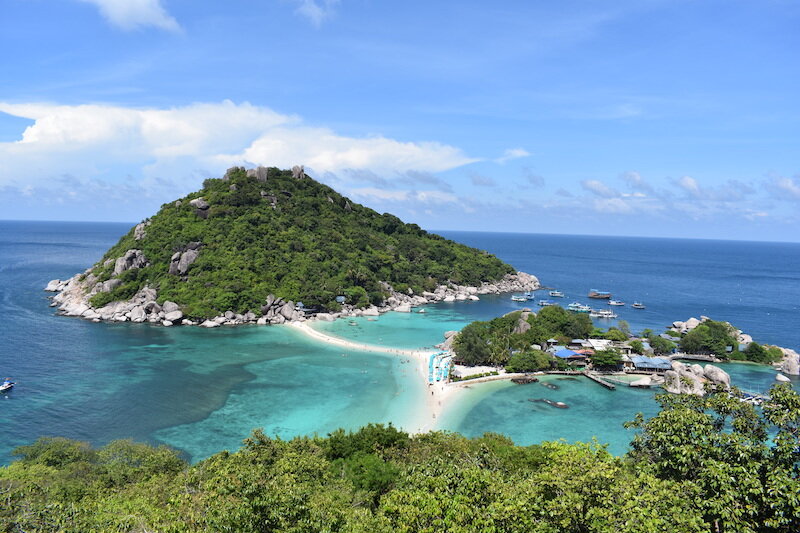 Photo courtesy of: https://www.beyondthebay.co/thailand/koh-phangan
Currently the number one remote work location on Nomad List, the island fares high on important aspects such as cost of living, internet, and safety. Interestingly, all Nomad List members voted for it as their favorite location.
One possible reason why Koh Phangan is liked by many digital nomads and remote workers among other places in Thailand is the Full Moon Party. Set to be held next on February 17, the event is not only a mere get-together but also a major festivity that draws large crowds. It is also a great venue for meeting like-minded individuals. Days before the big event, eager participants flock to the island to secure good accommodation and get a feel of the vibe. In 2020, the Full Moon Party was put on hold due to COVID-19 but it was welcomed back over the new year holiday with some restrictions.
If you're a remote worker who intends to tick off Koh Phangan from your bucket list, it is best to have all your bases covered from Airbnb, food, and, of course, work setup. What better way to experience this remote island than to go out and explore it on foot! Leave the comfort of your room, bring your laptop, and give local chill spots a try. In this article, find out the best wifi cafes to work while in the beautiful island of Koh Phangan.
Located in the southwest part of the island, Bubba's Coffee opened its doors in 2015. It is now a popular working space for remote workers because of its fast wifi, good food, and pleasant ambience. Bubba's Coffee has got you covered from sun up to sun down with its wide offerings. While it specializes in coffee, the cafe also has a brunch to dinner menu. Cocktail and wine options are available for those who wish to get a little buzzed before settling down for the day.
Fresh from the recently concluded The Sip & Swap, where ladies get to exchange clothes, Mimi's Cafe keeps things interesting around Koh Phangan with its light and welcoming cafe interiors. Remote workers will find themselves easily at ease with the accommodating staff. The place is ideal for health buffs who are seeking Keto and Ayurvedic food because, yes, Mimi's Cafe has them!
If you're on a search for a vegan option, look no further because there's Karma Kafe! Visit the place for a relaxing and healthy vibe, perfect for when you need to get some work done. Specializing in plant-based and gluten-free food, Karma Kafe offers a special discount on the dish of the day. Drop by to try its dessert, burrito, sushi, quesadilla, smoothies, and many more. Indulging in healthy grub while working is always a good idea.
The brainchild of couple Elie and Emilie, it started out as a simple restaurant for tourists. Over time, the young and vibrant crowd made up of digital nomads and remote workers gathered in the cafe to do business and La Casa had to evolve. Today Elie is running Remote & Digital, a brand name where La Casa belongs, to provide everything their special clients need. More than the restaurant, this cafe is proud of its beachfront coworking spaces and meeting rooms especially built for conducting remote businesses comfortably.
Connecting the coworking community is the mission of Dots. No wonder this cafe is well-known in the digital nomad space. With coffee and pastries in the menu, it is the perfect go-to for quick bites while engaging in remote work. The cafe recently reopened in a new space to give customers an even better Dots experience.
While the pandemic unfortunately forced other known cafes in Koh Phangan to shut down, we have here the five wifi-equipped working spots that are still standing strong. Now that Thailand is reopening its doors to foreign travelers, it is nice to think happy thoughts and hope for a renewed vigor for the remote island of Koh Phangan.
Written By: Frances De Guzman